Organic Cotton Is Better For People And Planet
Organic cotton is cotton that is produced and certified to organic agricultural standards. Its production sustains the health of soils, ecosystems and people by using natural processes rather than artificial inputs. 
The Global Organic Textile Standard does not allow the use of toxic chemicals or GMOs (genetically modified organisms) in farming or the processing of textiles. Instead, it combines tradition, innovation and science to benefit the shared environment and promote a good quality of life for all involved.
For more information about organic cotton visit About Organic Cotton. For more information about the GOTS standard visit Global-Standard. 
Supporting Farming Families
While all organic cotton is better for the planet, not all organic cotton is the same. Mightly uses cotton from Chetna Organic Farmers Association. Chetna is a farmer-owned nonprofit that works with smallholder farming families in three rain-fed regions of India: Maharashta, Odisha and Andhra Pradesh. Since its founding in 2004, Chetna has worked with marginalized farmers to make farming a sustainable and profitable occupation. 
Chetna farmers do not use toxic chemicals to grow their cotton. The methods they use regenerate the soil and use 71% less water and 62% less energy than non-organic cotton farming. 
For more information about Chetna Organic Farmers Association visit Chetna Organic.
Beyond Sweatshop-Free With Fair Trade Certification
Fair trade is a global movement made up of producers, companies, consumers, advocates, and organizations working towards the mission of eliminating poverty and enabling sustainable development for farmers, workers, their families, and their communities around the world.
Fair Trade Certified factories must adhere to rigorous social, environmental and economic standards to protect the health and safety of workers. This means: safe working conditions, no child or forced labor, elimination of harmful chemicals, maternity leave, and much more.
For every Fair Trade Certified product sold, Mightly pays an additional Fair Trade Premium directly back to the workers who make our clothes. Collectively, they vote on how to spend the funds on projects that address local needs, so that their families and children can thrive for generations to come.
In 2019, the Fair Trade Certified Factory Program facilitated sending $8M+ to over 100,000 factory workers. By increasing capital and decision-making mechanisms, the factory program enabled these workers to improve access to resources such as healthcare services, education programs, and groceries. For more information about Fair Trade visit Fair Trade USA and look for the label to support better working conditions for the people who make your clothes.
Rajlakshmi Cotton Mills
Mightly works with Rajlakshmi Cotton Mills in Kolkata India. In 2010, Rajlakshmi was the first factory in the world to achieve Fair Trade Certification under Fair Trade USA's new Fair Trade Standard for Apparel and Homes Goods. Rajlakshmi is a longstanding partner and supporter of Chetna Organic. In 2008, Chetna acquired a ownership stake in Rajlakshmi and shares in the factory's profits. This partnership provides many additional benefits the Chetna farmers, including pre-harvest contracts, financing and support of community development projects in remote farming villages such as schools, vocational training centers, eco-centers, women's enterprises and revolving loan funds.
Rehana Middey, 34,
Works in finishing at the Rajlakshmi Cotton Mills. Rehana has two boys.
"By working at this factory, I'm able to support my family and meet daily needs. Every year when we receive our Fair Trade premiums, I'm able to put them into savings - which may become important later in life. I remember the first year when the factory joined Fair Trade, I was able to buy a bicycle for my son to ride to school - I was so proud! If the customers buy our products, we can benefit and improve our lives while also providing good clothing for people all over the world."
Mohammad Zunaid Alam, 30
From the sewing section, has worked for 8 years at Rajlakshmi Cotton Mills. Mohammad has two girls.
"Since the Fair Trade program started here, the factory has improved overall and we have received different types of orders from abroad. I like that by working to make a good product, we are also able to help our families and each other. The past four years of premiums have really helped my family - one year, I was able to fix my roof; I've invested in savings which will double in 5 years. As my two daughters grow, they will need funds for furthering their education. I want to thank Fair Trade consumers for helping us improve our lives."
Subroto Mondal, 28,
Works in sewing at Rajlakshmi Cotton Mills.
"It felt good when the first premium arrived after we produced Fair Trade garments for a year. I never thought something like this was possible. I'm proud to have clothes I have worked on reach the US, England, Australia and all over the world. When people buy these products, it benefits us. We hope consumers will continue and invest in us. The impact of these premiums reach far beyond the factory - each worker has a home village and relatives that in small and big ways truly benefit. I personally left school after the 10th grade. My hope is to invest in my childrens' futures so they can have a better future. Working here in a Fair Trade factory, I believe this is more possible."
Pijush Das, 42,
Has worked for 9 years at the Rajlakshmi Cotton Mills. Piush is a Fair Trade Committee member.
"My fellow workers recommended me to represent them in the FT committee. They thought I would listen to everyone and be fair. Different workers have different needs. Some want to buy computers, bicycles, home appliances. Some want to install toilets in their homes. I favor allowing a free hand rather than having the committee commit to putting workers' premiums into savings or investments. One year, I used the premium money I received just before Bengali New Year to buy a bicycle for my daughter, then 13 years old. She would cycle 10 kilometers each way - the stretch of 1 railway stop - to get to a good school. I was happy to be able to improve our lives with my work. I think the Fair Trade program is wonderful and I enjoy working here because everyone feels more invested in their workplace. We work to a high standard and hope consumers will continue to support us."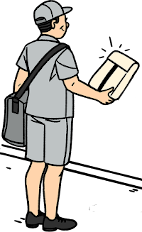 Trashfree delivery?
Try returnable packaging, easier on you and the planet!

Add a RePack to your order for $2.95 - it's free to return!